I'm currently on Week 8 of PWR at home by Kelsey Wells of BBG Sweat app. It's a resistance/strength training program that's 12 weeks long. I started it as soon as I got the thumbs up from the OB to workout again post-partum. I started with PWR at home beginner then moved my way to the PWR at Home 1.0. It's a great workout to be able to do at home while the kids nap. The program is divided into chest/triceps, arms and abs, legs, back and shoulders. Basically, the goal is to do 5 resistance workouts/week with 3 LISS workouts and 1 HIIT. Well, in a busy world, it's tough to fit in 5x/wk workouts.
So, it got me thinking and researching: What are the best evidence-based workouts out there?
Being a science-driven person (thank you med school!), I dug into the science looking for journal articles and browsing the thoughts of experts in the field. Here is what I found….
Built With Science: Best Workout Splits

PWR at Home from BBG/Sweat is a Bro-Split program: Training each muscle at least 2x/week results in significantly greater muscle growth than training each muscle just once per week as you do in a bro-split. The main drawback of the bro split: it focuses on one muscle group on each day of the week. Training muscles more than once a week can cause significantly greater hypertrophy.
Fierce from BBG/Sweat appears to be a fullbody workout 3x/wk.
Just know that workout volume and consistency are the most important factors, so focus on those two variables and you will see positive results regardless of the split you use.

Best Cardio Workouts (Built with Sceince): HIIT cycling (1-2x/wk @ 10-20 minutes), LISS (1-3x/wk @ 20-40 minutes; cycling, brisk walking, 4/10 perceived exertion). Cardio after weights or different day.
Jeremy Ethier: Light Weights vs Heavy Weights for muscle growth — push to near failure. Greater strength gains with heavy. Hypertrophy the same for light and heavy weights.
Jeff Nippard: The Most Effective Science-Based Warm Up & Mobility Routine (Full Body): HR 100-120; Raise core body temp. Goal is light sweat. Do before every workout (5-10 minutes). Foam roll. Dynamic stretching.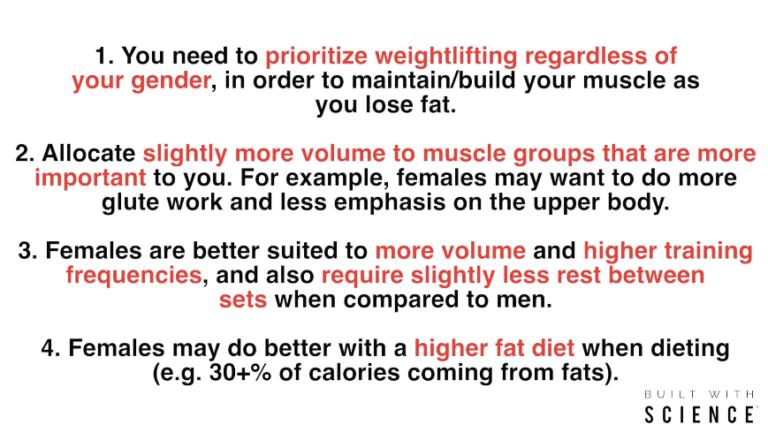 ---
SAMPLE WORKOUTS
Home full body workout from Built With Science:
Workout A
Dips
Rows
Decline Pushups (legs elevated)
Bicep Curls
Workout B
Handstand Pushups
Rows
Regular Pushups
Deadlifts
Triceps Extensions
---
---
TransparentLabs.com: The Best Science-Based Workout Routine For Beginners

Workout Instructions:

Perform 12-15 reps
Use weights that create fatigue, but not to create failure, (if you can't complete 12-15 reps, reduce your weight).
Complete one set of each exercise, moving from the first to the second, to the third, etc.
Transition to the next exercise without a break

Dumbbell Front Squat
Dumbbell Shoulder Press
Barbell Bentover Rows
Dumbbell Split Squats (each side)
Dumbbell Chest Press on Swiss Ball
Wide-grip Pullups
Dumbbell Step-ups
Medicine Ball floor slams
Barbell Hip Thrusters
Decline Pushups
---
The more I started reading about strength training, the more I came across articles and blogs about CALISTHENICS. I'm still a bit confused as to what it is, but it seems like the gist of it is to use your own bodyweight and for full body exercises that can be done anywhere.
Given all this strength science, there must be data out there for workouts that have been around for centuries such as YOGA.
---
After reading about all this yoga information, I thought… What about PILATES?
---
My Plan
---
Kris Home Workout Full Body A (with abs and glutes)

Barbell Bench Press: 3-4 sets of 6-10 reps
Barbell Back Squat: 3-4 sets of 6-10 reps
ISO Reverse Crunches x 30-60 seconds
Seated Ab Circles x 30-60 seconds (alternate cw and ccw directions)
Pull-Ups: 3-4 sets of 6-10 reps
Lying Hamstring Dumbbell Curls/Swiss ball glute bridge leg slide: 3-4 sets of 10-15 reps
Recliner Elbow to Knee Tucks x 30-60 seconds
Opposite Side Tuck Planks x 30-60 seconds

Standing Overhead Press: 3-4 sets of 6-10 reps
Face Pulls: 3-4 sets of 10-15 reps
Oak Tree Stepouts x 30-60 seconds each side
Banded Pulldowns x 30-60 seconds
Plank Pushaways x 30-60 seconds
Farmer's Dumbbells weighted walk – 50 steps
Dumbbell bench tricep skull crushers (go farther overhead, not straight above head)
Drag Curls: 3-4 sets of 8-10 reps
Back extensions: 3-4 sets of 10-15 reps
Cable standing hip abduction- 2 sets, 15 reps/leg, RPE 8
Single leg lateral lunge (for adduction) – 2 sets, 15 repts/leg
---
Kris Home Workout Full Body B (with abs and glutes)

Barbell Deadlift: 3-4 sets of 6-10 reps
Incline Dumbbell Press: 3-4 sets of 6-12 reps
Hanging 'X' Raises x 30-60 seconds/ISO Reverse Crunches x 30-60 seconds
Hanging Leg Spirals x 30-60 seconds (alternate right and left twists)/Seated Ab Circles x 30-60 seconds (alternate cw and ccw directions)
Bulgarian Split Squat (alternate upright vs leaned over like sprinter): 3-4 sets of 6-10 reps – if no weights, then jumping
Chest Supported Row OR Inverted Row: 3-4 sets of 6-12 reps
Eccentric-accentuated lying leg hamstring curl- 3 sets, 6 reps, 8 RPE
Tornado Chops x 30-60 seconds (alternate right and left chops)/Recliner Elbow to Knee Tucks x 30-60 seconds
Opposite Scissor V Us x 30-60 seconds/Opposite Side Tuck Planks x 30-60 seconds
Gliding leg curl (legs up on row seat): 3-4 sets of 10-15
Dumbbell Lateral Raises: 3-4 sets of 10-15 reps
Incline Dumbbell Kickbacks: 3-4 sets of 10-15 reps
High to Low Chest Cable Flies: 3-4 sets of 10-15 reps
Dumbbell frog pump- 2 sets, 30 reps, 8 RPE
Sledgehammer Swings x 30-60 seconds each side/Oak Tree Stepouts x 30-60 seconds each side
Banded Pulldowns x 30-60 seconds
Plank Punchouts x 30-60 seconds/Plank Pushaways x 30-60 seconds
---
Kris Home Workout Full Body C (with abs and glutes)

TransparentLabs.com: The Best Science-Based Workout Routine For Beginners Workout Instructions: Perform 12-15 reps
Use weights that create fatigue, but not to create failure, (if you can't complete 12-15 reps, reduce your weight).
Complete one set of each exercise, moving from the first to the second, to the third, etc. Transition to the next exercise without a break
Dumbell Reverse lunge
Farmer's overhead dumbbell walks – 50 steps
Machine-standing calf raise- 3 sets, 8 reps, RPE 7
ISO Reverse Crunches x 30-60 seconds
Seated Ab Circles x 30-60 seconds (alternate cw and ccw directions)
Barbell Bentover Rows or Seated Row
Dumbbell Split Squats (each side)/Walking lunges
Recliner Elbow to Knee Tucks x 30-60 seconds
Opposite Side Tuck Planks x 30-60 seconds
Dumbbell Chest Press on Swiss Ball
Wide-grip Pullups
Dumbbell Step-ups
Oak Tree Stepouts x 30-60 seconds each side
Banded Pulldowns x 30-60 seconds
Plank Pushaways x 30-60 seconds
Medicine Ball floor slams
Face Pulls
Barbell Hip Thrusters
Face Down Arc (lay on belly – slow snow angel faced-down, not go above shoulders)
Decline Pushups

Kris Workout Full Body D (short on time or gym access)

Chris Thompson: 30 minute full body 2 sets, 8-15 reps, want to go to failure. Little rest as possible bt sets and exercises.
Bench Tuck
Calf Extension
Abductor Machine
Hyperextension
Hamstring Curl
Leg Extension
Squat Machine
Pull Up
Row
Dumbbell Lateral Raise
Dumbbell Curl
Barbell Bench Press
Dip/bench tricep pushes